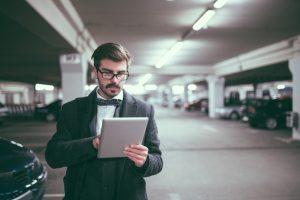 By Jeff Petry
The entrepreneurial spirit thrives in the parking-garage-start-up culture of innovation. Apple was started in the garage of Steve Jobs's childhood home. Hewlett-Packard Company (HP) was started in the home garage of Bill Hewlett and Dave Packard. Biotech company Invitrogen was started in a garage in Encinitas, Calif. These examples reference residential garages, but the modern internet can also be traced to a garage—a parking garage in Vienna, Va.
In Tubes: A Journey to the Center of the Internet (Andrew Blum, HarperCollins, 2012), the author traces the physical networks of the internet from his home, around the world, and then back home again. It's a great read to understand the physicality of the internet and its correlation with transportation infrastructure. Paths and interchanges carry both information and commerce from one point to another point all over the world.
I was excited to read about how MAE-East, an internet exchange point for the east coast, expanded across the street into a basement parking garage (1919 Gallows Road) in 1996. The author paints a vivid picture:
"Air conditioning units surrounded the bare white walls, hard up against the underground parking spots. A generic hardware store ACCESS RESTRICTED sign marked the door. The undisputed capital of the Internet was decidedly humble, the kind of space where you'd expect to find floor-polishing machines and toilet paper stocks, not the spinal cord of a global information network."
As parking and transportation professionals, we can prepare for the future needs of our organizations, communities, and economies by reflecting on our profession's past and our continuing role in technological innovation.
Jeff Petry is the City of Eugene's parking and technology manager.