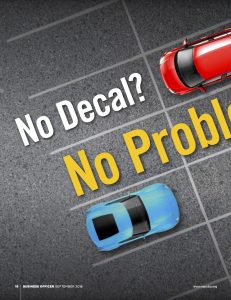 Excerpted from the September 2016 issue of Business Officer, the publication of the National Association of College and University Business Officers (NACUBO).
By Margo Vanover Porter
These days, when students and visitors pull up to a parking meter on a campus, they expect multiple payment options, whether they stay five minutes or five hours. What they don't expect is to hunt for change by digging in the seats of their cars, says Casey Jones, spokesperson and past board chair for the International Parking Institute (IPI), Alexandria, Va.
"Consumers today want mobile applications and solutions," he says. "They want convenience. They want options with real-time information. We're seeing a huge advancement and explosion of applications, whether students want to find parking, make a reservation, and start or conclude a parking session. All of those are available through mobile applications that allow us to offer a level of convenience, reliability, and security that we haven't had in our industry's history."
According to IPI's 2015 Emerging Trends in Parking survey, technology continues to reshape and revolutionize an industry previously best known for issuing tickets and demanding that drivers "stay between the lines." In "Top 10 Emerging Trends in Parking," on page 20, the survey notes that a "move toward innovative technologies to improve access control and payment automation" and the "prevalence of mobile applications" are the top two industry trends identified by parking professionals.
Another trend noticed by Jones is a decrease in what has been the typical model for parking on campus: the annual permit. "We've come to realize that people don't need to drive every day, and they don't want to drive every day. We're moving away from the all-you-can-eat permitting to something that is much more aligned with how people are actually commuting to campus."
This variation in transportation offers numerous benefits, he says. "Spaces on campus can be used much more efficiently, consumers don't have to pay for a year's worth of parking when they don't need it, and goals in sustainability and alternative transportation can be addressed."
To tap into the technological trends occurring on campus parking lots, Business Officerrecently interviewed representatives of four types of institutions.