Buyers Guide & Consultants Directory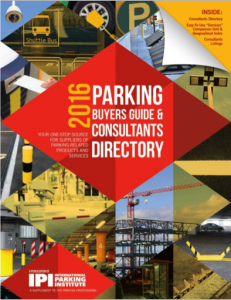 The Buyers Guide and Consultants Directory is the best way to keep your finger on the pulse of technology in the industry. If you're looking to find product and service providers, this resource puts you in the driver's seat with an easy-to-use services comparison grid and geographical index.
This "yellow pages" catalog contains nearly 90 pages of products and services available to the parking profession, with more than 80 diverse category listings and green and sustainable products and services at your fingertips.
Buyers can count on IPMI's directory in print, digital edition, and interactive online to source suppliers, distributors, and more of the products and services they need to successfully operate their businesses. Industry suppliers can list their company information and products annually and feel confident they are reaching targeted audiences through IPMI's global community.
The interactive online Buyers Guide and Consultants Directory provides members and other industry professionals with a more interactive search tool that offers quick access to a more extensive directory of industry-specific products and services.
You can even search the guide directly from your desktop by downloading the Desktop Search Tool!
Questions? Email us at IPIBuyersguide@parking-mobility.org.