Park(ing) Day 2016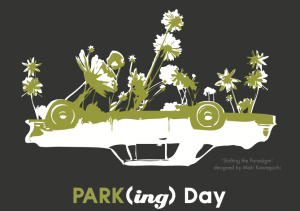 Park(ing) Day is an annual worldwide event. Dreamed up by San Francisco art group Rebar, the movement turns metered parking spots into temporary public parks. From green spaces to golf courses, it's a day and space in which to get creative.
Planning on participating in Park(ing) Day? IPI invites you to share photos and details about your event:
IPI will feature its members' efforts in The Parking Professional magazine. Please send high quality photos (300 DPI or larger, in JPG format, ideally the original shot from a digital camera) to arpino@parking.org. Please send only images that you own/took for the project, and let us know if we need to include any information on the photo credit. To accompany the images, please send a brief summary of your efforts (200-300 words) and a quote about the project. Please include full contact information in the event we have questions and need to follow up.
Related Events