2017 AOE Winner: West Hollywood Automated Garage, City of West Hollywood, West Hollywood, Calif.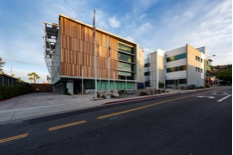 Category I: Best Design of a Parking Facility with Fewer than 800 Spaces

West Hollywood Automated Garage
City of West Hollywood
West Hollywood, Calif.
Owner
The City of West Hollywood built the first fully automated, municipally-run parking structure on the West Coast. The new 200-space structure was built above grade on a very small parcel that made a conventional garage impractical and cost prohibitive.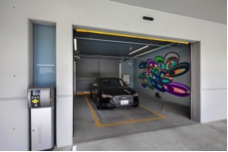 The garage serves city hall visitors, employees, residents, and patrons of nearby businesses. It incorporates a PARCS system that is networked to other city parking facilities for ease of use. Parking validations are provided for city hall visitors via electronic validation kiosk or printed follow-up tickets, and keycards are issued to employees and monthly permit holders.
Parking provides a valet-like experience without the costs or risks of valet parking. An auto court provides short-term, motorcycle, and bicycle parking, including a station for the city's bike share program. Neither cars nor pedestrians enter the parking warehouse section of the garage, eliminating security concerns. There is an attendant onsite at all times to guide people through the parking and retrieval process.
The compact nature of this parking structure provided greater setbacks from nearby buildings, and an efficient loading area for deliveries. The project also created open space with a 4,000-square-foot community plaza between city hall and the garage that is used for civic events and public art displays. As built, this garage uses less than 40 percent of the space needed for a conventional parking garage.
This project uses state-of-the-art composite wood panels made primarily from recycled plastic grocery bags and milk jugs. Most of the structure is made from poured-in concrete, and light pollution from the site to the adjacent residential neighbors is greatly reduced due to the solid nature of the parking warehouse and the automated nature of the system. Landscape selections are drought tolerant and California native.
The garage has full built-in redundancy, including generators for backup power and uninterruptible power supplies for the computer system that's backed up multiple times daily. The garage includes a comprehensive 10-year service and maintenance agreement.
Because vehicles are non-operational during the parking and retrieval process, there is a reduction of carbon dioxide emissions equivalent to removing 92 cars from the road each year or planting 67,000 trees. Funding for the project came from the Parking Improvement Fund and city bonds.
Project Participants:
Heery International, Construction Manager
Konsortum1, Electrical Engineer
LPA, Inc., Architect
T.B. Penick & Sons, General Contractor
Unitronics Systems, Inc., Automated Parking Vendor
Walker Parking Consultants, Parking Consultant
Total Cost: $10 million including a 10-year maintenance plan.