2017 AOE Winner: Partners Healthcare Garage – Corporate Campus, Partners Healthcare, Somerville, Mass.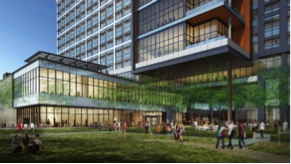 Category VI: Award for New Sustainable Parking & Transportation Facilities Excellence
Partners Healthcare Garage – Corporate Campus
Partners Healthcare
Somerville, Mass.
Owner
Partners HealthCare broke ground on its new corporate campus in the Assembly Row neighborhood of Somerville, Mass., in December 2014 with a mission to create an environment that would not only be enjoyed by the Partners team but by the entire Somerville community. The project was developed with a number of goals in mind including consolidation of the 15 offices scattered throughout the City of Boston, creation of an outdoor space that would be enjoyed by the Somerville community, and a special emphasis on sustainability.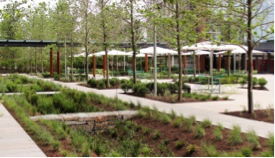 The seven-level garage is just one piece of this plan. The garage features an elaborate LED lighting system, a massive solar photovoltaic array providing power to the garage and the EverSource power grid, a sophisticated parking guidance system providing a 20 percent reduction in search times resulting in reduced CO2 emissions, community green space, and more than 100 bicycle storage spaces. These features, coupled with future plans for electric vehicle charging stations, vehicle ride sharing options, and more, make the Partners Healthcare campus a great place to work. Solar Array is a Power Purchase Agreement (PPA) with Ameresco.
Project Participants:
Buro Happold, Mechanical Engineer
Code Red Consultants, Code Consultant
Gensler, Architect
HLB Lighting Design, Lighting Consultant
Leggat McCall, Owner's Representative
McNamara/Salvia, Structural Engineer
RDK Engineers, Security/Low Voltage Engineer
Richard Moore Consultants, Sustainability Consultant
SP Plus, Parking Consultant & Operator
Suffolk Construction, Construction Manager