When the President Pays a Visit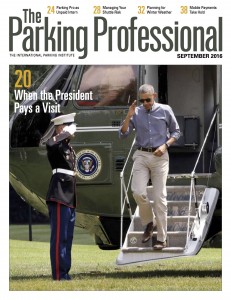 Long lines of cars waiting to park, security all over the place, sharpshooters on rooftops, secure areas, and accommodating a lot more people than usual, not all of whom are happy: This is what it looks like when the President visits a college campus.
Josh Cantor, director of parking and transportation at George Mason University, knows these challenges well. His campus has hosted everything from Presidential visits to candidate debates (complete with CNN crews and live coverage) to all sorts of events with dignitaries, all of which come with their own challenges, and sometimes a few cool perks—private tour of Marine One, anyone? This month, he shares his experiences with The Parking Professional in a fascinating feature you're sure to enjoy. Read it here. Who knows—maybe your turn will be next!