Ultra-Productive People Eat Frogs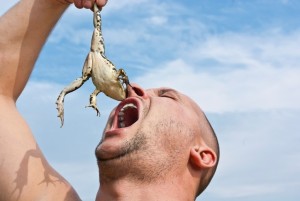 By Bonnie Watts, CEM
I recently returned from vacation. I set up the "out of office – vacation" autoresponder on my email that indicated I would not be available but still took my laptop with me. My intention was to take advantage of early mornings and an hour or two in the evenings to keep on top of emails and ongoing projects back at the office.
Those were my intentions.
Happily, I was not entirely successful. I did not open my laptop once. I realized the downtime gave me the opportunity to hit the reset button and recharge. Eliminating deadlines and demands, I was able to leisurely contemplate ways to improve my own productivity and efficiency, re-prioritize projects, and even ways to improve as a manager when I returned.
My first week back, I have been on a workplace high. My intention, of course, is to work smarter not harder. My new focus reminded me of a terrific article I read about a year ago on Forbes about the 11 Things Ultra-Productive People Do Differently. It included some great hacks on increasing productivity–one or two I hadn't considered. And perhaps I could offer one to Forbes to add to the list:
12. Take your vacation time. I highly recommend the beach.
P.S. I am not a fan of eating frogs but they have a point.
Bonnie Watts, CEM, is IPI's vice president of sales.