Suicide in Parking Facilities: Prevention, Response, and Recovery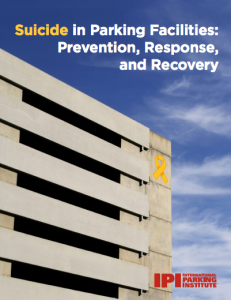 Just published, May 2016
12-page publication, color, PDF
Produced by the International Parking Institute in collaboration with leading suicide experts.
This publication is provided as an informative tool intended for use by organizations that design, manage, or operate parking garages as they consider the issue of suicide prevention, response, and recovery. It is not intended to provide either legal or medical advice and, as is strongly encouraged throughout, for any consideration in addressing suicide at a parking facility, the input and recommendations of trained professionals should be sought out.