A Prime Parking Space but No Green Jacket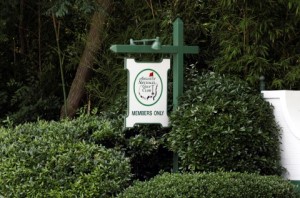 Most sports fans will recognize the names of Hogan, Snead, Palmer, Nicklaus, and Woods, but the name Dan Jenkins may not ring a bell.  Mr. Jenkins was inducted into the World Golf Hall of Fame in 2012. His notoriety didn't come from his driving or putting ability, but more from his writing skills. You see, Mr. Jenkins is in the Hall because of his journalism career, which spanned more than six decades. During this tenure, he's written more than 500 articles (mostly for Sports Illustrated) and 20 books on golf and other sporting events.
This week at the Augusta National Golf Club marks Jenkins's 66th time covering the iconic Masters Golf Tournament. The Masters is one of the four majors in professional golf and is known for its beautiful wooded fairways, Amen Corner, and Eisenhower Tree – a tree the former President and General hit so consistently with golf balls that he insisted it be cut down.
So how do you honor someone who has attended and written about your event for more than 65 years? Of course, with a parking space right next to the Augusta National Clubhouse. It's the parking space typically reserved for the club's Chairman.
Knowing that the Master's Green Jacket is out of one's reach for the average golfer, it's safe to say most would cherish having that parking space for a week. Just don't wear a green sports jacket while there. It would be frowned upon.