Photogenic Parking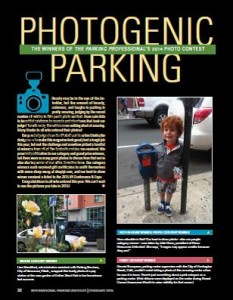 Beauty may be in the eye of the beholder, but the amount of beauty, cuteness, and laughs in parking is pretty amazing, judging by the record number of entries in this year's photo contest. From cute kids to beautiful rainbows to sunsets and structures that took our judges' breath away, the entries were nothing short of amazing. Many thanks to all who entered their photos!
Our panel of judges from the IPI staff and BonoTom Studio (the designers who make this magazine look great) had a tough job this year, but met the challenge and somehow picked a handful of winners from all of the fantastic entries we received. We promised publication to our category and grand prize winners, but there were so many great photos to choose from that we're also sharing some of our other favorites here. Our category winners each received gift certificates to outfit themselves with some sharp swag at shopipi.com, and our best-in-show winner received a ticket to the 2015 IPI Conference & Expo.
Congratulations to all who entered this year. We can't wait to see the pictures you take in 2015!