2016 IPI International Parking Conference Recap
2016 Conference Recap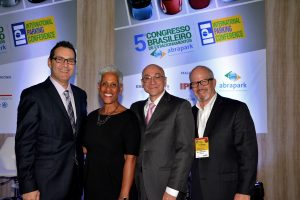 October 4-5, 2016 | Expo Center Norte, Sao Paulo, Brazil
Abrapark & IPI International Parking Conference showcased the newest tools, advanced technologies, sustainable solutions, and leading experts in parking and transportation. The conference tapped into innovations that are revolutionizing parking and contributing to a new vision for smart cities.
This conference served as an opportunity for anyone with an interest in parking, transportation, government, and development in Latin America. Attendees immersed themselves in new approaches to parking that boost revenue, reduce traffic, and create more livable cities. Suppliers introduced innovative new parking products and services to a receptive market.
Leading parking and transportation experts provided practical solutions and real-world examples of how parking can better integrate with existing modes of transportation.
Programs
IPI Intro, Why Parking Matters
Private Parking Sector Approach to Parking Management
Mobility University Mobility: TDM Practices at Work
Expo Parking Lunch & Exhibits
Parking in a Mixed-Use World
Parking's Role as a Catalyst for Economic Development
Panel Discussion: The Future of Parking
Expo Parking Exhibits
Who Attended
Parking professionals
Government and city officials
Transportation decision-makers
Urban planners
Developers
Airport executives
Building owners
Architects
Facility managers
University leaders
Medical facility executives
Smart city/smart growth advocates